Last circular letter (extended)
Timetable of talks:
Here is the tentative program of the summerschool (changes are possible):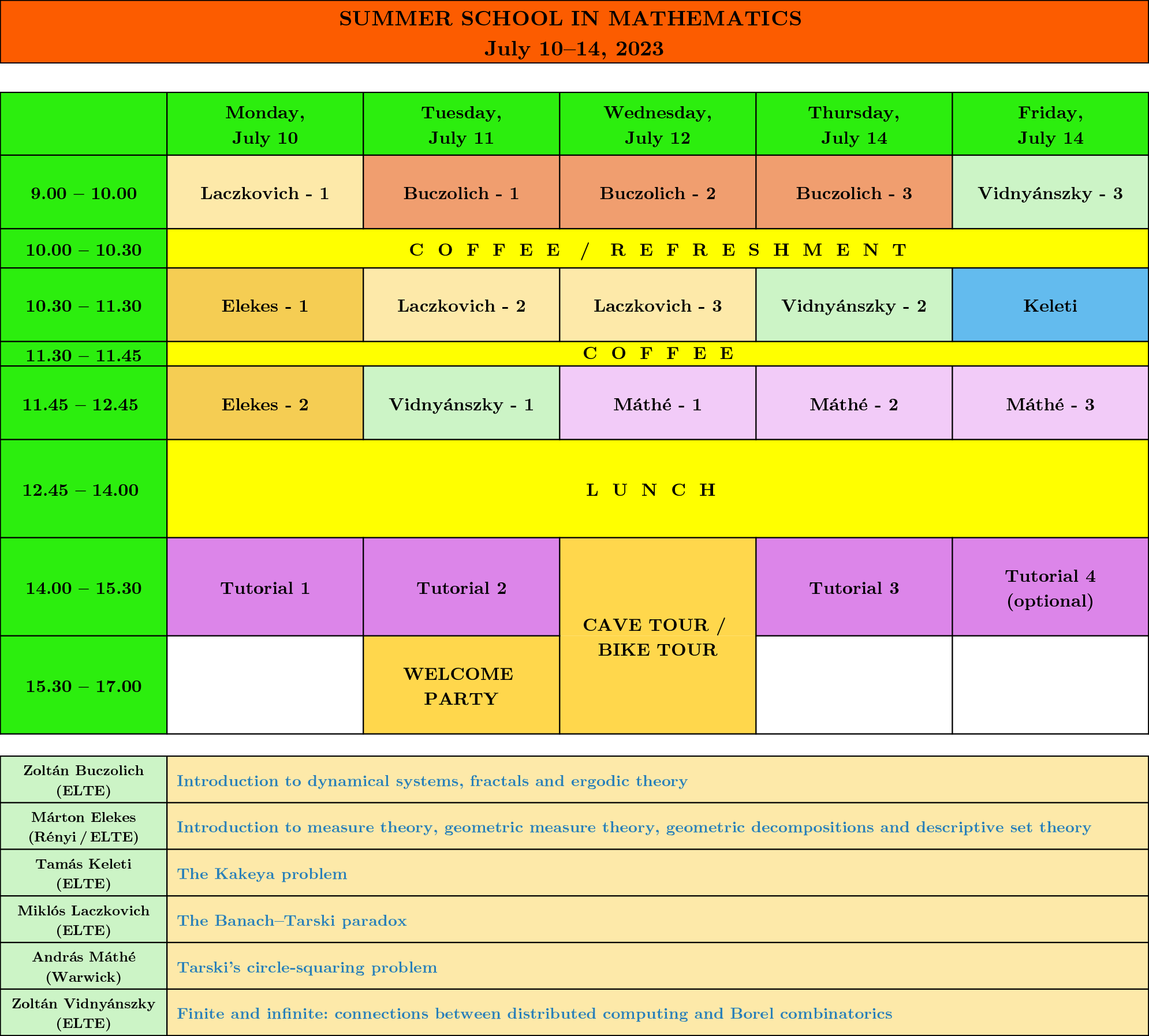 Venue
The lectures will take place in room 3-219 in the Southern Building of Eötvös Loránd University Campus in Lágymányos (area between Petőfi bridge and Rákóczi Bridge on the Buda side of the Danube (address: Pázmány Péter sétány 1/c). Coffee and refreshment will be available at the end of the 3-200 corridor, starting from 8:30 AM on Monday. — To help find your way to the location of the summerschool, we posted a few pictures in the following album.
Our first lecture starts on Monday at 9 AM and the last lecture ends on Friday at 3:30 PM. The lectures will be held in room 3-218 of the Southern Building of ELTE. Every day after the second talk, around 12:45 PM there will be a one and a quarter hour long lunch break. For lunch we recommend the cafeteria of the Research Centre for Natural Sciences, three minutes from the faculty bulding, but many other smaller restaurants can be found in the vicinity, too.
Excursion
We plan to keep Wednesday afternoon free.
One optional program is a visit to Pálvölgyi Cave.
For those of you who would like (instead of the cave) to get a quick tour through Budapest, an alternative program is planned: it would be possible to go for a bicycle tour through Budapest mostly on safe bicycle paths. The tour would be approximately 20 km long, starting at the University and ending in the City park and it can be easily done in about 2 hours. An optional return to the university or getting back to downtown is also possible. No particular skills are necessary for the tour, however the possibility of such a tour will largely depend on the weather (heavy rain or a strong heatwave — not unusual for June — would make the trip less enjoyable). The route would enable the participants to see places (at a relatively close range) like the Gellért Hill, the Buda Castle, Erzsébet Bridge, Chain Bridge, Parliament, Margit Island, Duna Arena (sight of the last year's World championship in swimming), St. Stephen's Basilica, the Opera House, Heroes square, Museum of Fine Arts, the City park, the new Ethnographic Museum and the new House of Music. See a map and photos of some of the sites.
To obtain bikes for the tour, we recommend the rental chain called BUBI with a large number of bicycles and docking stations. The cost of a bicycle rental for 3 hours would be less than 10 Euros. For those of you who decide to join the tour, we will try to organize to have enough bicycles at the starting point by the time we leave. If you are interested, please check the website of the BUBI rental and download the suggested application.
Local transport
Budapest has a large network of public transport service with buses, trams, troleybuses, metrolines, local train etc. serving the public. The main source of information could be the website of the local transport company. It is recommended that you obtain a one week pass for unlimited travel within the boundaries of Budapest; it costs approx. 13 Euros. With a student ID from an EU country you are entitled to a one month student pass for approx. 9 Euros. For details see the webpage mentioned above.
Words of caution
Budapest is a relatively safe city however as in most larger cities thefts are possible, especially on buses or other means of transportation. Please, keep your valuables at a safe place. Don't leave your bag, camera, laptop or phone unattended in public places. Also be aware of pickpockets usually operating in larger crowds on buses or trams. Thus it is a wise precaution to take off your backpack once you board a bus.
Be also careful with restaurants: overcharging is possible in some downtown places. It is possible to have a quite decent lunch for 3000 forints (approx. 8 Euros) or even less but of course in some places you could pay more. However, to pay over 20 Euros may already mean that you eat at an expensive place. Before you enter a restaurant, check the menu and also check your bill before you pay.
Weather
The weather is usually quite hot at this time of the year. Check the forecast at https://met.hu/en/idojaras/. It seems now that we shall have temperatures with daily highs in the range of 35 degrees.
Currency, payment
The local currency is Hungarian forint. The exchange rate is quite volatile in these turbulant days, but it is safe to expect that 1 Euro will be worth approx 380 Forints during the period of the summer school. Please, do not change money if someone approaches you with such an offer: it is not only illegal but also dangerous. You may easily be robbed or tricked by these "street exchanges". There are many official exchange offices where you can change you currency to forints. Some caution is recommended here: the exchange rates are usually worse at airports, train stations or some chains of money exchange services. We recommend that you check the gap between buying and selling rates. With major currencies this gap should not be more than 3-4%.
On the other hand we should mention that payment with credit cards or debit cards is widespread and relatively safe. Plus usually the applied exchange rate offers you a better deal than direct exchange. (Of course this may depend on the type of card you have and your local bank.) You should keep this in mind when you exchange money: you can get along quite well with a smaller amount of cash.)